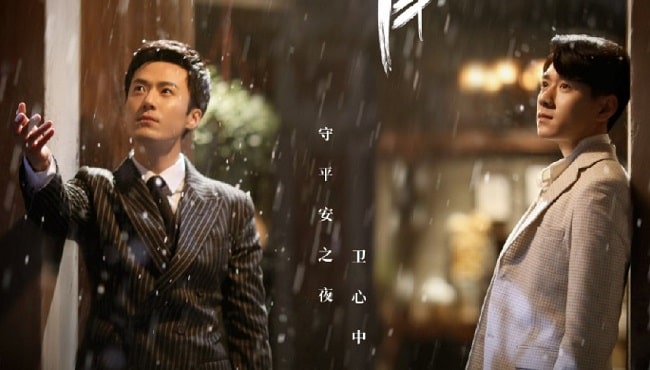 Download Drama China Killer And Healer Subtitle Indonesia
Sinopsis Drama China Killer And Healer (2021)
Sebuah cerita yang mengikuti dua pria yang berlawanan kutub-satu membunuh, sementara yang lain menyembuhkan. Salah satunya adalah polisi yang kejam dan yang lainnya adalah dokter yang penuh kasih. Bersama-sama mereka saling mendukung dan menebus selama masa sulit.
Jiang Yue Lou mengepalai Kantor Polisi Jingcheng dan tampak tidak baik atau jahat. Namun penyelundup gemetar memikirkan dia.
Saat menyelidiki kasus opium di Hong Kong, Yue Lou bertemu dengan Yu Zhi yang mengetahui bahwa Yue Lou menderita gangguan bipolar. Dari penolakan awalnya untuk menjalani perawatan, Yue Lou akhirnya terbuka dengan Yu Zhi.
Meskipun nilai mereka berbeda, mereka menjadi teman dekat. Sementara itu, panglima perang Zhan Jun Bai, taipan Zhao Jing Ming, dan gangster jahat Zhou Huo terus membuat masalah, bahkan mencoba membunuh Yue Lou. Saat ini, rahasia dari masa lalu mulai menggelembung ke permukaan.
Detail Drama
Native Title: 恨君不似江楼月
Also Known As: Han Gwan Bat Chi Gong Lau Yut , 恨君不似江樓月 , Hen Jun Bu Si Jiang Lou Yue , 恨君不似江楼月
Director: Sam Ho
Genres: Suspense, Historical, Crime, Drama
Country: China
Episodes: 37
Aired: Mar 3, 2021 – Mar 24, 2021
Aired On: Monday, Tuesday, Wednesday, Thursday, Friday, Sunday
Original Network: Mango TV, Mango TV
Duration: 40 min.
Content Rating: Not Yet Rated
Daftar Pemain
Mao Zi Jun as Jiang Yue Lou
Ian Yi as Chen Yu Zhi
Guo Shu Tong as Chu Ran
Patrick Quan as Yu Tang Chun
Chen Yu Cheng as Zhan Jun Bai
Zhang Yan as Jiang Sheng Nan
Download Drama China Killer And Healer Sub Indo
Episode 1
 540p (HARDSUB INDO): Zippyshare | FileIm | GDrive | Hxfile | Racaty | Upstream | Solidfiles
Episode 2
540p (HARDSUB INDO): Zippyshare | FileIm | GDrive | Hxfile | Racaty | Upstream | Solidfiles
Episode 3
540p (HARDSUB INDO): Zippyshare | FileIm | GDrive | Hxfile | Racaty | Upstream | Solidfiles
Episode 4
540p (HARDSUB INDO): Zippyshare | FileIm | GDrive | Hxfile | Racaty | Upstream | Solidfiles
Episode 5
540p (HARDSUB INDO): Zippyshare | FileIm | GDrive | Hxfile | Racaty | Upstream | Solidfiles
Episode 6
540p (HARDSUB INDO): Zippyshare | FileIm | GDrive | Hxfile | Racaty | Upstream | Solidfiles
Episode 7
540p (HARDSUB INDO): Zippyshare | FileIm | GDrive | Hxfile | Racaty | Upstream | Solidfiles
Episode 8
540p (HARDSUB INDO): Zippyshare | FileIm | GDrive | Hxfile | Racaty | Upstream | Solidfiles
Episode 9
540p (HARDSUB INDO): Zippyshare | FileIm | GDrive | Hxfile | Racaty | Upstream | Solidfiles
Episode 10
540p (HARDSUB INDO): Zippyshare | FileIm | GDrive | Hxfile | Racaty | Upstream | Solidfiles
Episode 11
540p (HARDSUB INDO): Zippyshare | FileIm | GDrive | Hxfile | Racaty | Upstream | Solidfiles
Episode 12
540p (HARDSUB INDO): Zippyshare | FileIm | GDrive | Hxfile | Racaty | Upstream | Solidfiles
Episode 13
540p (HARDSUB INDO): Zippyshare | FileIm | GDrive | Hxfile | Racaty | Upstream | Solidfiles
Episode 14
540p (HARDSUB INDO): Zippyshare | FileIm | GDrive | Hxfile | Racaty | Upstream | Solidfiles
Episode 15
540p (HARDSUB INDO): Zippyshare | FileIm | GDrive | Hxfile | Racaty | Upstream | Solidfiles
Episode 16
540p (HARDSUB INDO): Zippyshare | FileIm | GDrive | Hxfile | Racaty | Upstream | Solidfiles
Episode 17
540p (HARDSUB INDO): Zippyshare | FileIm | GDrive | Hxfile | Racaty | Upstream | Solidfiles
Episode 18
540p (HARDSUB INDO): Zippyshare | FileIm | GDrive | Hxfile | Racaty | Upstream | Solidfiles
Episode 19
540p (HARDSUB INDO): Zippyshare | FileIm | GDrive | Hxfile | Racaty | Upstream | Solidfiles
Episode 20
540p (HARDSUB INDO): Zippyshare | FileIm | GDrive | Hxfile | Racaty | Upstream | Solidfiles
Episode 21
540p (HARDSUB INDO): Zippyshare | FileIm | GDrive | Hxfile | Racaty | Upstream | Solidfiles
Episode 22
540p (HARDSUB INDO): Zippyshare | FileIm | GDrive | Hxfile | Racaty | Upstream | Solidfiles
Episode 23
540p (HARDSUB INDO): Zippyshare | FileIm | GDrive | Hxfile | Racaty | Upstream | Solidfiles
Episode 24
540p (HARDSUB INDO): Zippyshare | FileIm | GDrive | Hxfile | Racaty | Upstream | Solidfiles
Episode 25
540p (HARDSUB INDO): Zippyshare | FilesIm | GDrive | Hxfile | Racaty | Upstream | Solidfiles
Episode 26
540p (HARDSUB INDO): Zippyshare | FilesIm | GDrive | Hxfile | Racaty | Upstream | Solidfiles
Episode 27
540p (HARDSUB INDO): Zippyshare | FileIm | GDrive | Hxfile | Racaty | Upstream | Solidfiles
Episode 28
540p (HARDSUB INDO): Zippyshare | FileIm | GDrive | Hxfile | Racaty | Upstream | Solidfiles
Episode 29
540p (HARDSUB INDO): Zippyshare | FileIm | GDrive | Hxfile | Racaty | Upstream | Solidfiles
Episode 30
540p (HARDSUB INDO): Zippyshare | FileIm | GDrive | Hxfile | Racaty | Upstream | Solidfiles
Episode 31
540p (HARDSUB INDO): Zippyshare | FileIm | GDrive | Hxfile | Racaty | Upstream | Solidfiles
Episode 32
540p (HARDSUB INDO): Zippyshare | FileIm | GDrive | Hxfile | Racaty | Upstream | Solidfiles
Episode 33
540p (HARDSUB INDO): Zippyshare | FileIm | GDrive | Hxfile | Racaty | Upstream | Solidfiles
Episode 34
540p (HARDSUB INDO): Zippyshare | FileIm | GDrive | Hxfile | Racaty | Upstream | Solidfiles
Episode 35
540p (HARDSUB INDO): Zippyshare | FileIm | GDrive | Hxfile | Racaty | Upstream | Solidfiles
Episode 36
540p (HARDSUB INDO): Zippyshare | FileIm | GDrive | Hxfile | Racaty | Upstream | Solidfiles
Episode 37 End
540p (HARDSUB INDO): Zippyshare | FileIm | GDrive | Hxfile | Racaty | Upstream | Solidfiles